I am a Failure at Keeping You Safe

Not Backed Up?
You're 1 Minute Away from Disaster.

I admit it. I am a failure at keeping you - my friends and my clients - safe. Safe from the stomach-churning, sweat-inducing panic that comes with the loss of all of the information on your computer.

I have been hyping backups for your home computer constantly since August when I was visiting in Ashland, OR while 13 homes in a sub-division burned in minutes. Talking with friends, we realized that if the fire had been in their neighborhood, they would have lost financial records, photos, music, and more.

I have tried humor, sex, and fear to lead you to backup solutions. I particularly liked my blog Sexy Bodies, Sex, More Sex, and Backups that tried to get people to think about their data vulnerabilities while enticing them with photos of young flesh.

But, I can see the readership stats and the clicks to the backup programs I have suggested. I have checked back in with the people I talked about the fire. I am not getting through. So let me be more direct:



If you're not backing up your financial records, photos, music, and other information, it's only a matter of time before your disk will crash and you will lose your valuable data.




If you're not backing up your information by the Internet to a remote location, you're vulnerable to losing everything in a fire or other home disaster.




This is serious folks!



I strongly recommend that you sign-up for a back-up service that will store a copy of your information away from your house. Find a service that is far enough away from you so that fire, earthquake, flood, or tornado won't get both your home and the backup data.

Oh yeah. One more thing. There are back-up services out there that are very inexpensive.



One I'm recommending is Mozy. It offers free backup for up to 2 GB of data. That's enough space for your financial records and a lot of your pictures. You cannot get cheaper than free!

If you have more photos and music, Mozy is only $4.95 a month for unlimited backup. The one-year deal is $54.45, and three years is just $103.95.



Get more information and sign-up!

Or, you can wait until it's your turn to lose all of your records, memories, and entertainment.

So, please spend 30 minutes today and sign up. At least get 2 GB of your most important information protected for free!
How to Grow Your Business with Free Social Media Tools

Moderation in everything, including social media. Why? Because participating in social media is "free"only if your time isn't counted as a cost.

But, your time is valuable. So, the first step in using social media is to make a plan that outlines what areas you're going to participate in and how much time you're able to dedicate to that task.

Listen to a podcast where I'm interviewed as the Marketing Director for client Sterck Kulik O'Neill. Reporter Chris Bjorklund and I talk about what social media is best for different types of business, how to get started, who in your organization should be responsible for posts, and more top tips.


The Positive Side of Negative Reviews

Some business owners refuse to visit online rating services like
Yelp
because they say that they don't want to expose themselves to negative reviews. These owners refrain from adding details like hours or phone numbers to their online profiles to emphasize their disassociation from web sites that they do not control.
This bury-your-head-in-the-sand technique won't work! Yelpers (and users of other online rating services) can -- and will -- review you without your participation. Yelp and other sites use public information to create the lists of businesses, and users can add ones that are missing.
So, your business is going to be reviewed. And, not all the reviews may be 5-star ovations.
But, just as customer complaints help you in the bricks-and-mortar world, your business can profit from online complaints. Yelp has tracked how successful businesses use unpleasant reviews to their advantage.
Here's How to Make Lemonade from Sour Reviews »
Tips for Dealing with Online Complaints
You get told of a bad review or find out that someone has written something ugly about your business on Yelp, Twitter, Facebook, or on a blog?



What are the rules for handling the new world of drive-by Internet smacks to your reputation?




How to Get the Internet Speed You're Paying For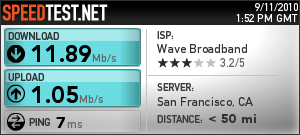 Almost everyone has moved from dial-up Internet to high-speed connections. You're ready to get your videos, music, files, and programs at the rate of many megabits per second.

Sometimes, though, even on your fast cable or DSL network the Internet seems to crawl. The estimated time to download simple stuff is tens of minutes, and web surfing is a wipe out.