Do You Know What Triggers an IRS Audit?

Yet another way to get your business Internet attention is by posting video clips.

We recommend that clients publish them on YouTube so that they will be found by people searching for a particular topic.

Then, we suggest that you embed the YouTube video on a page in your web site. Embedding on one of your pages gives your site richer content, a fact that Google rewards by bumping your pages up higher in its results.

We implemented this two-step posting approach for a CPA client.

We recorded one of the partners responding to an accounting FAQ and posted it online. The image above shows how the clip looks at YouTube.


Case Management for People with Chronic Mental Illnesses or Disabilities

M. Ludwig and Associates' New Web Site


We were happy to start the year helping a business doing great work in the community get on the Internet. M. Ludwig and Associates provides private case management and coaching on life skills for people who have chronic mental illness or other disabilities.

Michele provides the guidance and care that help family members support each other.

While we were working with Michele, we realized how important it is to include basic search engine optimization with the initial site development. Tons of people aren't searching for mental health case management every day, and most of Michele's clients are referred by physicians. But, when someone does need help, we wanted M. Ludwig and Associates to show up online.

Google now displays Michele's site in the top 10 results for searches for "Marin Case Management Professionals" and "Marin Mental Health Case Management". Her site shows up because the page titles, headlines, text, description, and graphic tags all include meaningful keywords so that search engines and potential clients can find her.

Michele's site has both a pleasing design AND it ranks highly in Google!


Getting Attention for Your Hair (Stylist)

Sometimes beautiful web sites don't get you any business.

When a site is created by designers who don't include search engine optimization (SEO) techniques as part of their development, they can make very pretty pages that don't tell Google what products or services you're providing. So, Google doesn't display your site when potential customers are searching for you!

LenDoesMyHair.com looks great, but it hadn't gained its owner customers in the years it's been active. We could see why. The page titles were the business name, not the services provided. The pages had no description tags to clue Google in on their contents, the headings were graphics (which are meaningless to Google), there was little text, and the photographs were unlabeled (and therefore also meaningless to Google).

We didn't change the look or layout of the site or its pages, but added SEO components to the pages. In the first week after we went live with the search engine optimized site, a new client found Len.

The beautiful design is not ours, but the SEO is! Check out the web page source code, if you want to see SEO in action. Or, just enjoy the look and plan your next San Francisco or Sonoma hair styling.

How to Get Four New Clients in One Week

Estate Planning attorney Julia Wald told us that her phones rang a lot right after she sent out her holiday cards. So, as part of her Internet marketing campaign, we decided to launch a monthly electronic newsletter to see if electronic messages had the same effect on her telephones.

Julia had just returned from Egypt and was struck that the ancients built pyramids as their legacy while modern families turn to wills, trusts, and other documents to determine how they will be remembered.


Her January newsletter to her clients, colleagues, and contacts was a hit. It was illustrated with her personal pictures like the one shown on the left, and she worked in a gentle reminder of the value of estate planning in creating your legacy.

The week after the newsletter came out, four new clients engaged her to create their estate plans!


Is Your Anti-Virus Program Taking Over Your Computer?

We started to help a friend with work on their computer and the machine went away. The anti-virus software had downloaded an update, and the anti-virus program was running a scan that took the computer's whole power for several minutes.

We'd forgotten about that feeling of time-suspended helplessness, because over a year ago we threw out Norton and McAfee.

We replaced them with NOD32 anti-virus which is very fast and just as efficient.

Everyone needs an effective anti-virus program. Just make sure yours lets you use your computer.


Why You Want to Be in the News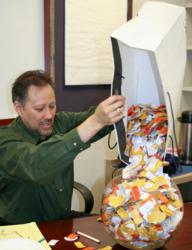 Tax accountant Charles R. Sterck picks the winners in last year's tax season giveaway

A well-written press release about your business can help your web site show up higher in Google results. Not only will Google see the release online and follow the strategic links to your web site, news services may post the release on their site for Google to see.

Ozdachs CPA client's first press release tells about a tax season give-away designed to spur procrastinators to send in their tax information early. The press release was loaded with valuable keywords like "tax accountant" and it linked to the client's web site.

Within hours of the release being posted, the story was showing up in the top of local Google searches for "San Francisco Tax Accountant". The most visible link was from a news bureau which had picked up the release and posted it to their own site. That meant that Google saw more links to the CPA's web site from new places online.

News stories. Another way to gain ground on Google.


7 Secrets to Positive Online Reviews

Do you Yelp?

More and more web searchers visit Yelp or other online review sources to determine which business to use. Google includes snippets of these online reviews in their business listings, which makes the comments even more important to your business.

Inc.com shares 7 secrets you can use to garner favorable online comments for your business.

One of Inc's suggestions is to ask people to review you. So... let us follow their advice. Be the first to tell Yelp what you think about Ozdachs Consulting.