How to Captivate Visitors to Your Website
Marketing mavins create ads with photos of pretty women, adorable children, and pets.

The linkage between the image and the product being hyped isn't always obvious (think of GoDaddy's penchant for featuring female breasts in their commercials for Internet services). But, pictures of the scenes that induce positive feelings grab the attention of potential customers and get them to read your pitch.

When you want visitors to your website to read more and to stay on your site longer, do what the professionals do: add pictures that appeal to the emotions (or hormones) of your prospects.

Most of the time you don't need to engage a professional professional photographer to add visitor-engaging pictures to your website. Her own point-and-shoot vacation photos consistently earn one of my clients spontaneous compliments from her clients.


A Slide Show Lets You Show More

I like using a new tool that lets us add a slide show of images to a web page.

First of all, the technology is JavaScript which is supported on most all devices -- unlike Flash which iPhones and many other platforms won't show.

Second, the code allows a lot of flexibility. The options include the ability to slowly cycle through the pictures so that visitors are not assaulted with jumping pictures while they are trying to read the text on the site.

Check out how a client created a great one-page business card website using this slide show technique.

Adobe Announces Release of

C

reative

S

uite

6



Last Monday Adobe announced that it will ship new versions of all its Creative Suite products on May 7th.

Ozdachs uses Adobe's Photoshop and Dreamweaver extensively in creating websites and other marketing publications. I've used a beta version of PhotoShop CS6, and love its ability to adjust brightness, crop intelligently, move an object in the foreground, and more! If you want to move up to the industry standard tools, I recommend trying CS6 when it is released next week. Adobe offers free trial periods, and you can place advance orders now. (See the Adobe Site.)

A couple more Adobe notes:
Adobe Lightroom 4 is my new favorite photo editing and organizing tool. If you're looking for a way to professionally edit your pictures... and find them later... Check out Lightroom. It's only $149, too! (More on my discovery of Lightroom and why I love it)
With CS6 Adobe is also launching a monthly cloud-based subscription service for its professional tools called Creative Cloud. I have reservations about relying on only Internet-based software, but Adobe's service lets you also download software to your PCs. I've signed up for one year of service. (Find out if the Creative Cloud is for You.)
Write 1x, Not 15x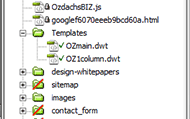 ".dwt" Template Files in a
Website Directory

Frequently the Search Engine Optimization and maintenance work for new clients with existing websites takes longer to do than it should.

The reason? These sites have pages that have header, footer, and other areas that look the same, but the site has not been built with a template. With a template I can edit information in a common area and it's updated on all pages of the site. Unfortunately, many web designers don't use templates. When that happens, every page on the site has to be updated separately.

Recently when I wanted to change the copyright date in the footer in an existing site, I had to do 15 edits instead of just one. This repetitive work is boring for me, and costly for the client.


A Follow-Up on Carbonite
After I recommended both Carbonite and Mozy in a recent newsletter, I received a comment from Linda

Laskowski

on my blog reporting bad support from Carbonite. (See the comment).

After reading her story, I placed my own tech support request with Carbonite to see if I received a timely and meaningful response. I did. However, Linda's experience is awful, especially since she was still trying to buy the service!

My advice: use caution! Or, use Mozy!

Google Enters Free Cloud Storage "Market"

Last week Google joined the competition to provide free storage of documents (text, pictures, and more) with Google Drive. It offers 5GB to each user. You can buy more GB from Google, and other free providers, for a modest cost.

Cloud storage offers:
flexibility -- you can get the latest version of a file whether you're at home or work
backup
the ability to share a photo or document with friends, clients, or even strangers
I use cloud storage to exchange large files (pictures, mostly) with clients via Dropbox. On the other hand, I think using the cloud routinely for storing documents is a lousy idea.
The Fed shut down one storage site, Megaupload, for allegedly allowing customers to store and share pirated videos and other copyrighted materials. Law-abiding users are also blocked from accessing their own Magaupload files. It's like having no access to your safe deposit box because a drug dealer used another box at your bank to store his stash. So, if you store your files only in the cloud, you are risking that you could lose all access to your own information because of the murky legal situation.
Google says it can use your material for its purposes, and that you give Google a license to "

... use, host, store, reproduce, modify, create derivative works..." what you store with them.

"Host" and "store" are okay, but create derivative works? And, without privacy limitations?
Read more on the problems with current cloud storage systems
Why I Love My Work

My clients have so many talents! They do terrific legal work, help owners figure out how to have successful businesses, organize and show off homes, provide comfortable vacation lodgings, create great art, and more!

Last month I helped artist Roger Arvid Anderson show more of his pictures from San Francisco in the 1970's. What fun! Do you recognize Sylvester in the collection below? (See Roger's photography gallery.)